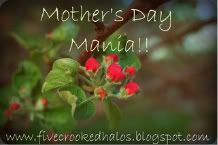 Well, I'm going to have to write some words today. I'm joining Mama M in her
Mother's Day Mania
. Today is "Whoopsie Wednesday".
So, let's see…what "whoopsie" stories do I want to share? I don't think I have any that will send DCF over to my house, so that's good, right? But I certainly have a few.
I think the worst was Rylie's shelf falling right on her head. OUCH! This is what her changing area used to look like…
See the empty shelf above the changing pad? Well that is no longer there. I was changing her diaper one day and when I lifted her legs up to slide the diaper out, she kicked the shelf. It came down, edge first, right between her eyes. It all happened so fast, but it seemed like it took me forever to get that shelf off of her. I quickly threw her diaper back on since she had pooped and I hadn't wiped her yet, then I yanked the shelf off of her and threw it on the floor, and then I was able to pick her up. You know when kids really get hurt and they try to cry so hard that no sound comes out? Well that is what she was doing. Poor baby! It must not have hit her as hard as I thought it did, because she really didn't even have a bruise. But to this day, she still remembers that, and that happened probably a year ago!
Brian went to sit down on the couch one day and pretty much dropped Rylie when he tried to avoid sitting on the cat. There are also plenty of instances where I bumped their little heads getting them in and out of the car, or going around corners in the house. And then there was
the time
I let Bryce's car seat fall off the bench at Chick Fil A.
It happens to the best of us, right? I know I feel bad enough when my kids are hurt, but it is ten times worse when I caused the pain!!!