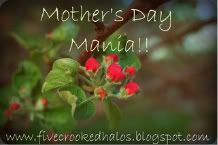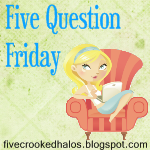 Today's
Mother's Day Mania
theme is Mama M.'s Five Question Friday. So click one of those cute buttons above and play along!
1. What is your worst memory of your siblings?
The time my brother chased me through the house with a baseball bat. I fully believe he intended to kill me. Luckily I made it to the bathroom and the door caught the blow. These days he likes me a whole lot more and would probably use that bat on anyone that tried to hurt me!
2. What was YOUR naughtiest childhood memory? (Must be something YOU did, no pawning it off on someone else!)
I was actually a pretty good kid. The only time I
really
got in trouble was the time we threw rocks over my neighbor's fence and then lied to my dad about it when he asked us if we did it. Lets just say it wasn't fun when he found out the truth.
3. Where do you like to go to relax?
Relax? What is that? LOL I guess I would have to say the couch...because that is where Brian rubs my feet every night.
4. What was the last thing you won?
A
Pillow Pet
from
Thanks, Mail Carrier
. It was
so cool
because I never win anything!
5. If you could be on a game show, which would you choose?
Wheel of Fortune! I'm pretty good at that game.