Happy Friday everyone! If you are visiting for the first time, welcome! Make sure you leave a comment so I will know you stopped by. I love new followers, so if you follow me, chances are I'm going to follow you back.
I am on the road today (probably pulling my hair out by now) taking the kids to see my family in Alabama. The good thing is that my family will be all over my kids and won't let me get near them while we're there, so I'll have time to get on the computer and make the Friday rounds once we get there. Yay! I look forward to checking out some new blogs.
Anyway - on to Five Question Friday. Wanna play? Head over to
My Little Life
and link up!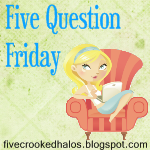 1. Is there something you've always wanted to try but just can't muster up the courage to actually do yet?
I can't think of anything. If I want to do something, I usually do it. When it comes to crazy activities like bungee jumping and skydiving, those aren't on my list of things to do. I'd like to stay alive, thank you.
2. If you had $100 handed to you in cash without your significant other knowing about it, what would you spend it on?
Sigh. Probably my kids. I have an obsession with cute little clothes.
3. What was your favorite piece of playground equipment as a child?
I don't know exactly what they were called, but there were these long horizontal metal bars at random heights. We would do somersaults around them. It is really hard to explain, but kind of like what a real gymnast would do on the uneven bars, I guess.
4. Do you prefer a sweet or hearty breakfast?
Usually hearty. But can I have just *a little* sweet thrown in there? Pleeeeeasse?
5. Are you a Neat Freak or a Messy Bessy?
I'm a neat freak by nature, but you wouldn't know it from the state of disarray my house is in right now. I guess that comes with having two kids and no time to get anything done. But I like everything in its place. Just ask my husband.