Happy Friday! I hope everyone had a great week! We are taking the day off and going to Disney's Animal Kingdom today, so I will be back on this evening to check out some new blogs and make some new friends.
If this is your first time checking out my blog, Welcome! I hope you'll enjoy it here and come back again. And for my regular visitors, thanks for coming back!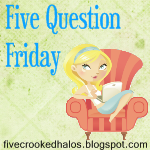 And here I go with this week's edition of 5
QF
. If you would like to play along, jump over to
My Little Life
and link up!
1. Take your pick...date night, girls night out, or night out alone?
Can I kind of combine two of those? I would like to have date night, but with friends. Brian and I do get alone time, but we rarely get to spend time with our friends, without all of our kids being with us. And honestly, I am OK with that. We always have fun. But every once in a while I would love a night out with some of our couple friends...
kidless
!
2. Can you touch your nose with your tongue?
No. Is this one of those trick questions just to make us all feel like dummies for trying? Or are there really people that can do that?
3. What is your favorite flower and why?
A sunflower. They are bright and it just seems like a happy flower. Plus, I don't know much about flowers anyway and that was the first one I thought of. I'm not really a flower kind of girl.
4. If you could go back in time, what advice would you give yourself?
Hmmm
, this one is interesting. I have sat here for 5 minutes now pondering over this. I guess one thing I would say is to not let myself get irritated by what people do in their own lives that does not affect me. I do have a problem with that and I need to realize that if it doesn't hurt me, it shouldn't bother me what they do.
5. If you won the lottery, what is the very first thing you would do?
Quit my job. I do like my boss, though, so I would agree to go in for a few hours
*at my convenience*
for a couple of weeks to help him transition my work. I wouldn't leave him hanging.